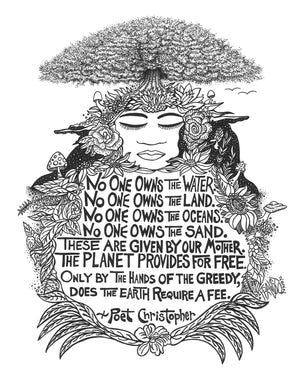 User Fee Drawing
Sale price Price $ 6,172.00 Regular price
This drawing was inspired by a poem Rick came across in 2021 that resonated deeply and compelled him to create a drawing based on the words. Series 2022. 8" W x 12" L. Black ink on eco-friendly, cold-pressed, heavyweight archival paper. Ships worldwide.


A PERSONAL NOTE ON PROCESS FROM RICK:


I came across this poem on Instagram in 2021 and liked it so much that I wrote it down on a piece of paper, filed it away, and forgot about it in the fray of the day-to-day. It resurfaced a year later while re-organizing my desk. There was no name credited, so I did some research and found the person who wrote it. He goes by the name Poet Christopher. We connected through Instagram, and as fellow gen-xer's, quickly found we had a lot in common. I shared my idea to create a drawing around his words and received his blessing to go for it. The result is my User Fee drawing. Hope you enjoy checking it out as much as I enjoyed bringing it to life.