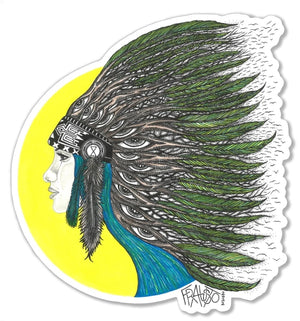 Extinction Rebellion Eco-Friendly Sticker
Sale price Price $6.00 Regular price
This sticker was inspired by Rick's drawing titled "Extinction Rebellion." It is a representation of the divine spirit of Mother Earth. She is embodied by an indigenous woman wearing a ceremonial war bonnet, and is meant to remind us that we don't inherit the Earth to do with what we please; we only get to borrow it from future generations. 3" W x 3.2" L. Printed on eco-friendly, PVC-free premium adhesive film. Ships worldwide.
Purchase a bundle of any 3 stickers and receive $2.00 off your order! Simply use the code 3STICKERBUNDLE at checkout. *Cannot be combined with other discounts.
Interested in acquiring the original drawing? Check it out here.