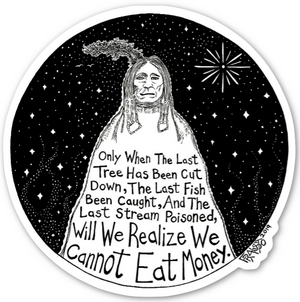 Native American Proverb Eco-Friendly Sticker
Sale price Price $5.00 Regular price
This sticker was inspired by Rick's drawing titled "Native American Proverb." It features a powerful saying that resonates now more than ever: "Only when the last tree has been cut down, the last fish been caught, and the last stream poisoned, will we realize we cannot eat money." 3" in diameter. Printed on eco-friendly, PVC-free premium adhesive film. Ships worldwide.
Purchase a bundle of any 3 stickers and receive $2.00 off your order! Simply use the code 3STICKERBUNDLE at checkout. *Cannot be combined with other discounts.
Organic cotton t-shirts featuring this image are available here.
Organic cotton tote bags featuring this image are available here.