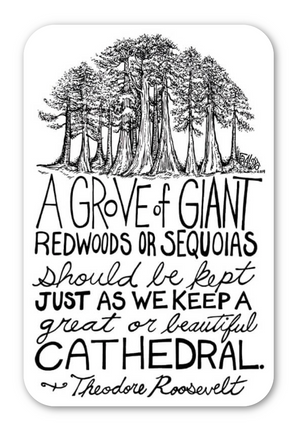 Redwood Trees Eco-Friendly Sticker
Sale price Price $5.00 Regular price
This sticker was inspired by Rick's drawing titled "Grove of Redwoods." It features Theodore Roosevelt's reverential quote that encourages us to care for nature as we would any sacred place. 2.2" W x 3.4" L. Printed on eco-friendly, PVC-free premium adhesive film. Ships worldwide.
Purchase a bundle of any 3 stickers and receive $2.00 off your order! Simply use the code 3STICKERBUNDLE at checkout. *Cannot be combined with other discounts.

Interested in acquiring the original drawing? Check it out here.